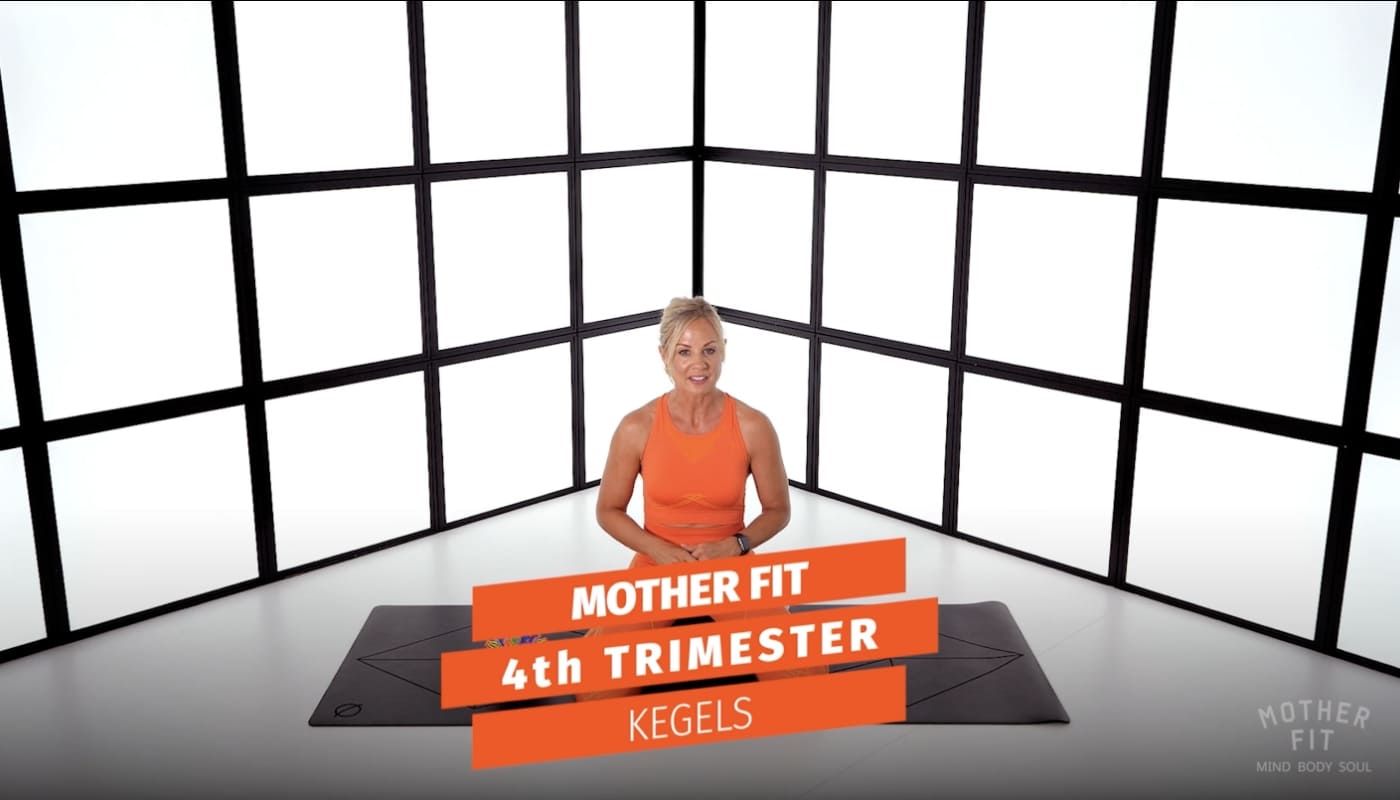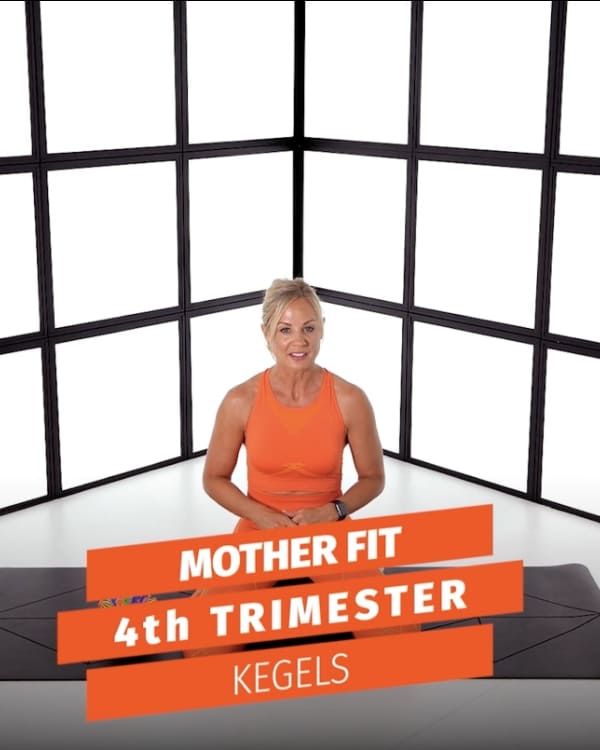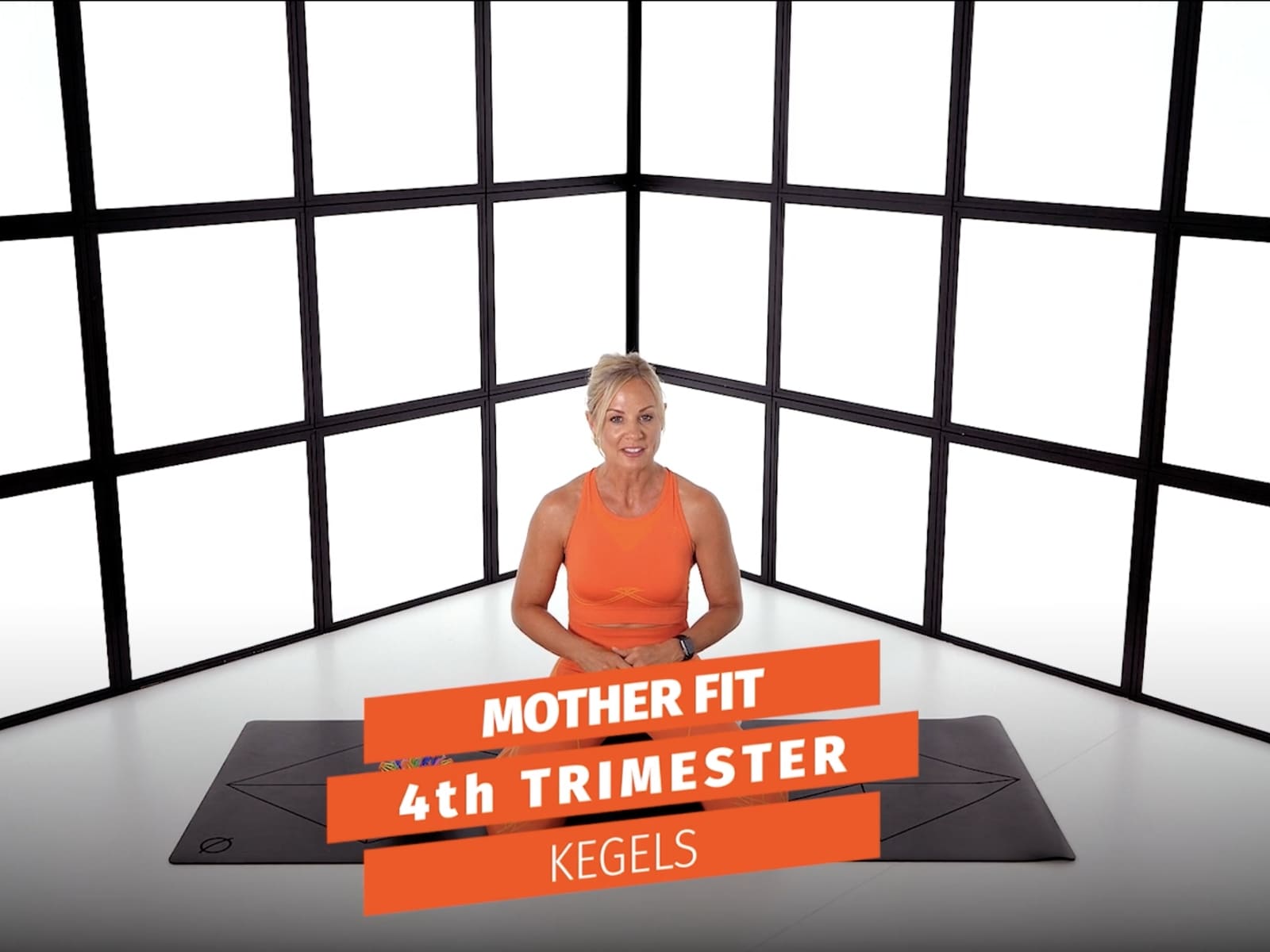 The Fourth Trimester
The 4th Trimester Programme will teach you how to do Kegels, check yourself for diastasis recti, learn why deep breathing is so important, how you can improve rib flare, and implement myofascial release.
The Rebuild Your Core Programme will re-establish a mind-to-muscle connection between your deep abdominals and pelvic floor, aiding your recovery after childbirth and preparing you to return to exercise.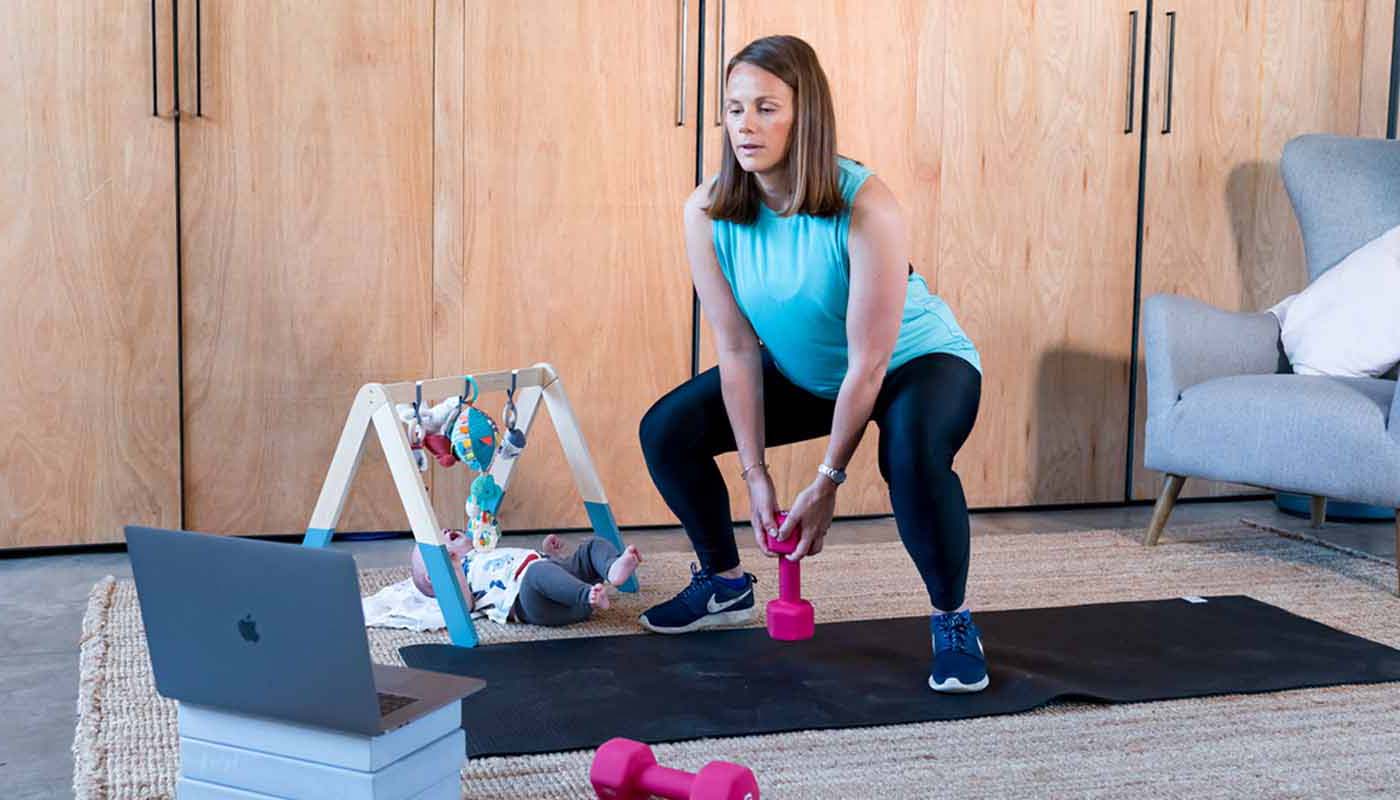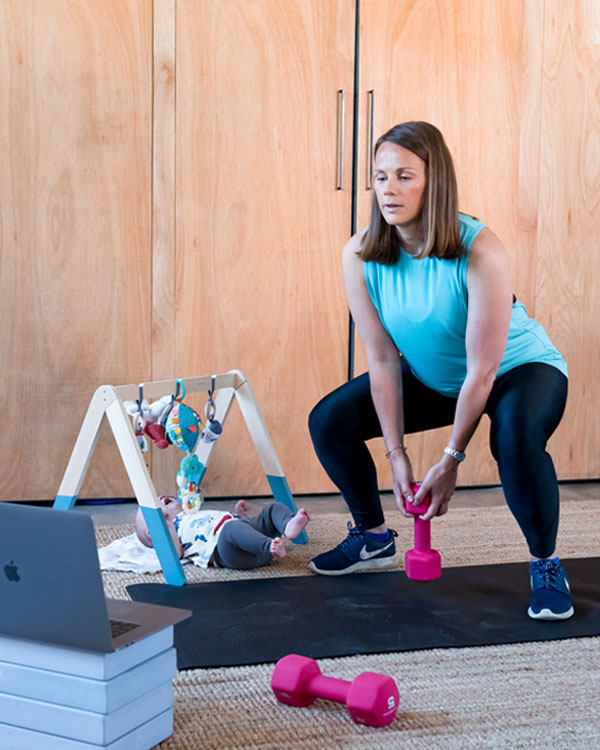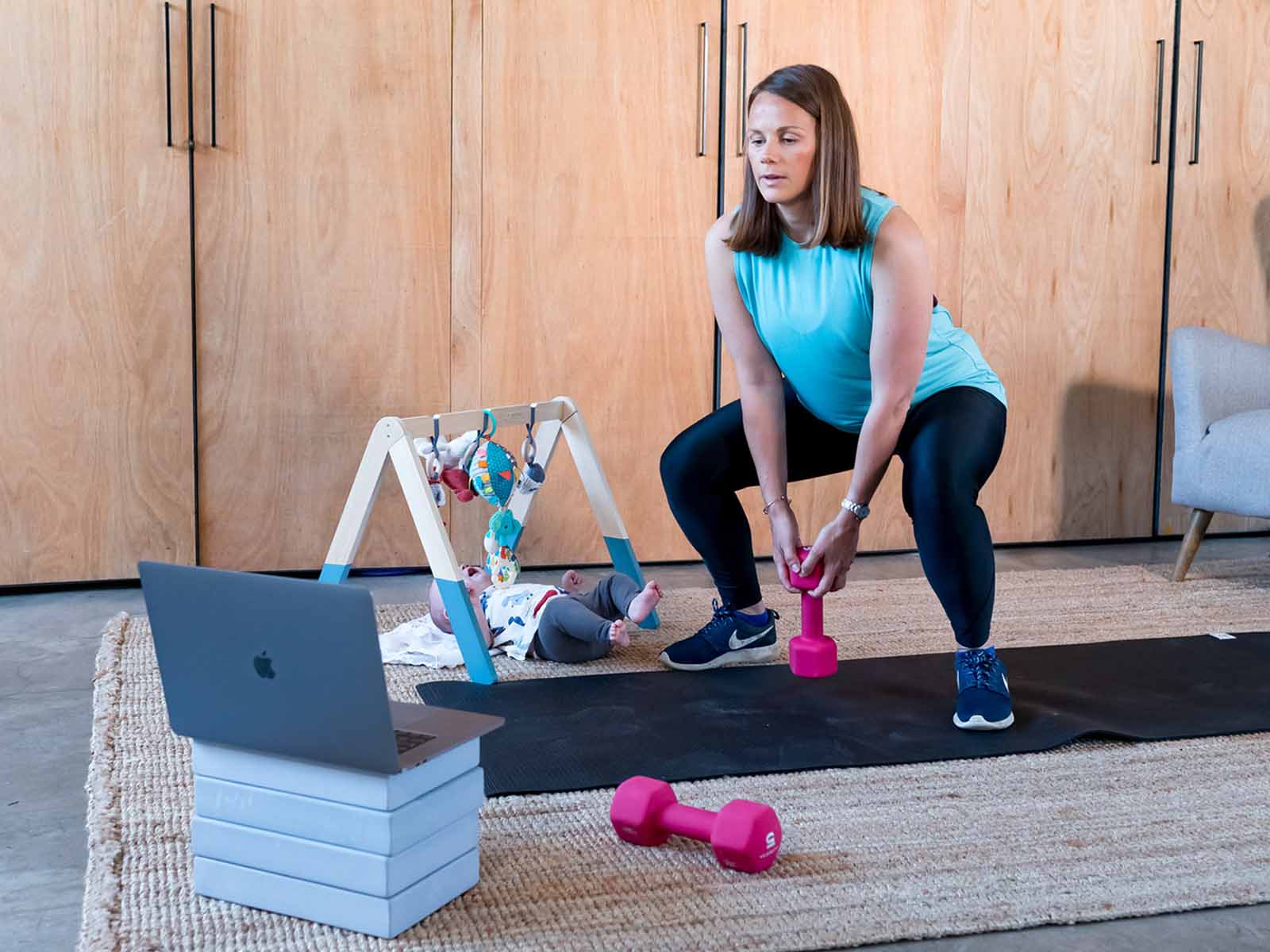 The Programme
The 9-Week Post-Pregnancy Workout Plan will guide you through workouts, stretches, yoga and advice on implementing walking intervals.
This programme will keep your return to exercise at a sensible pace and exertion, keeping you safe throughout. The Programme will become more vigorous as you work your way through it, still being mindful of what your body has been through.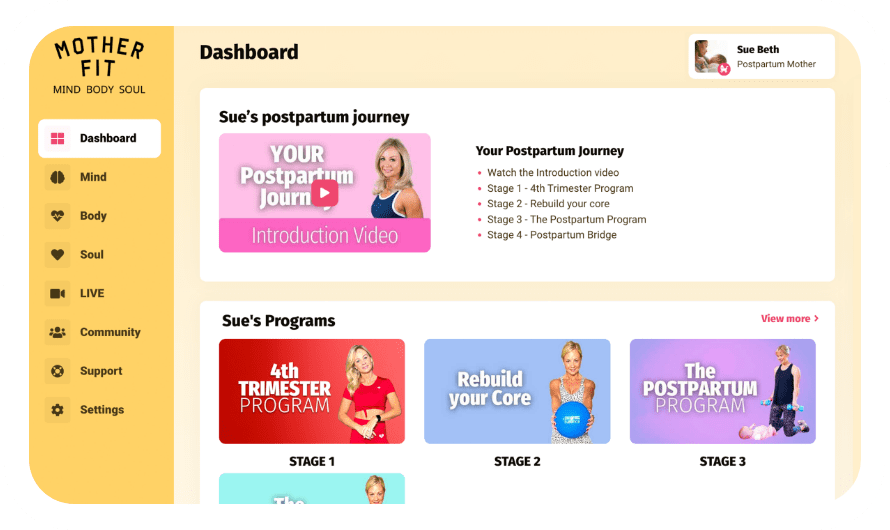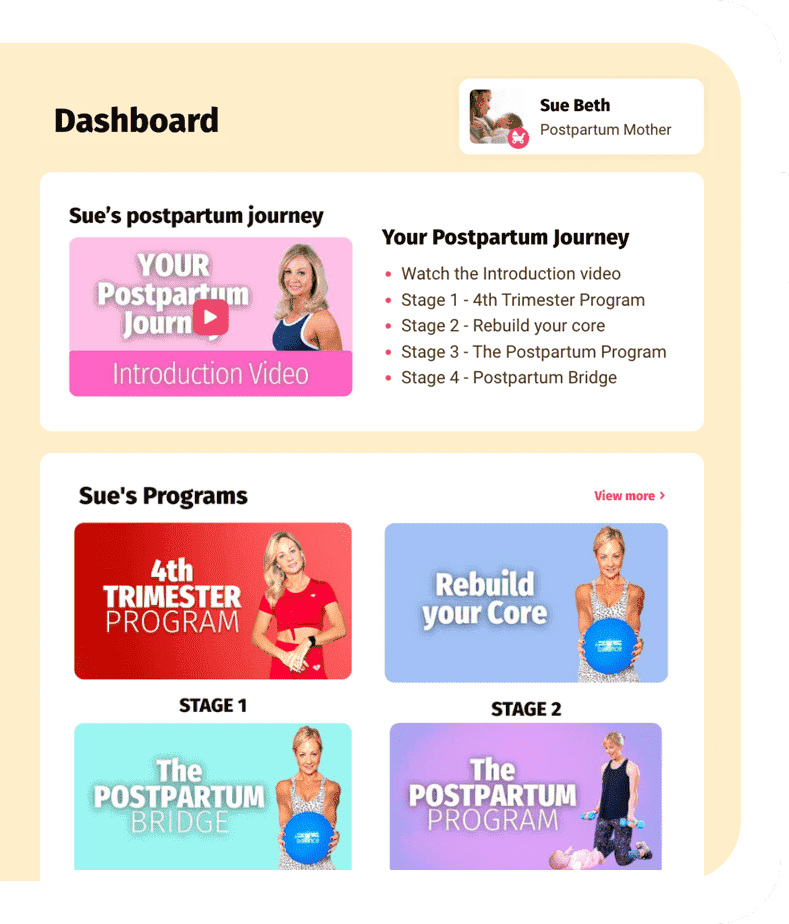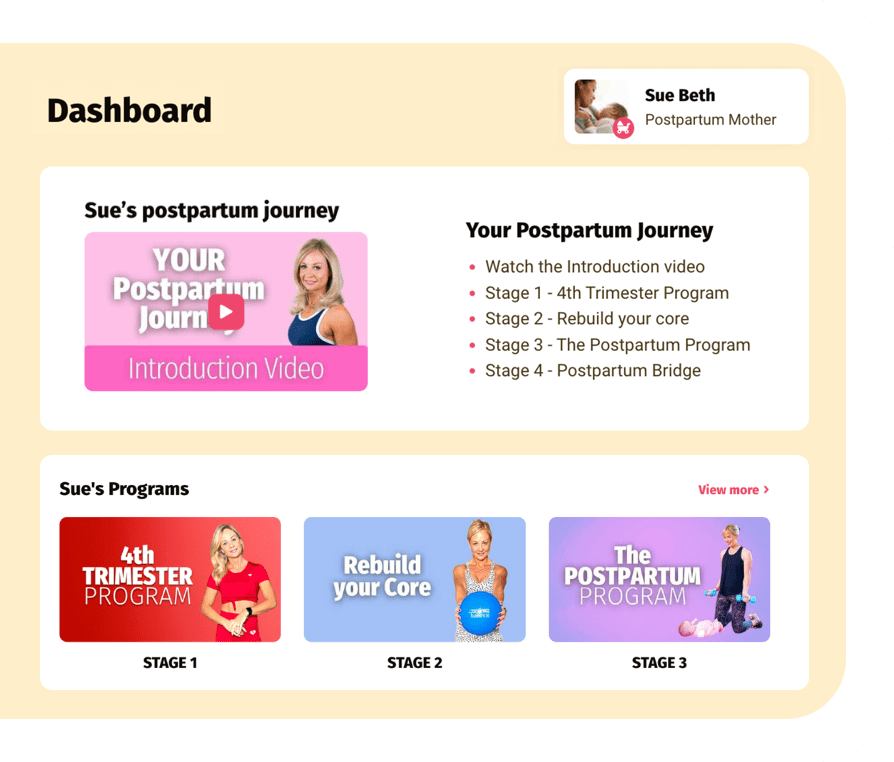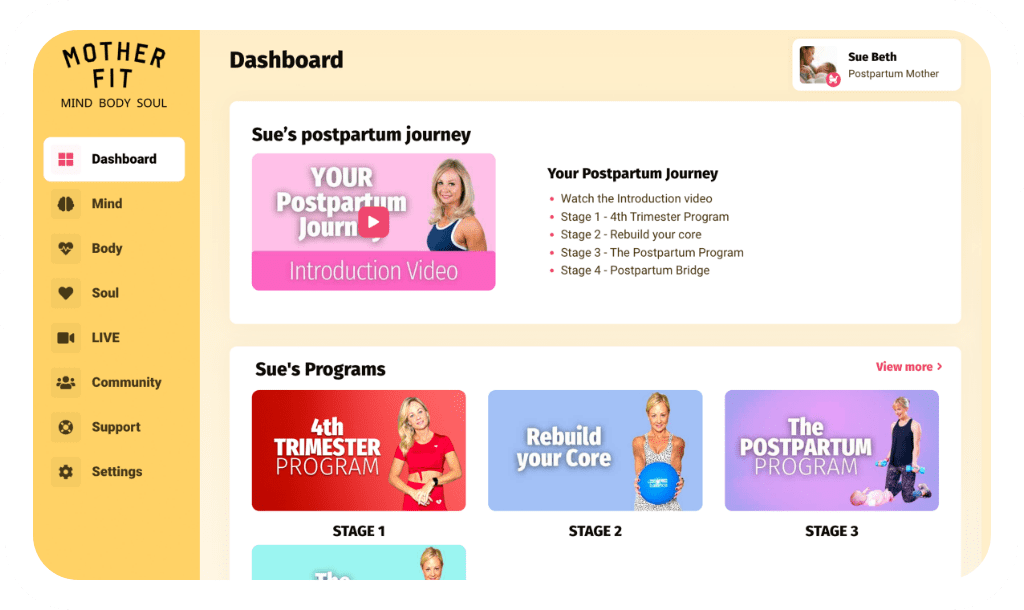 A personalised approach
When signing up you'll create a unique profile which will ensure you gain access to everything relevant to your specific stage of motherhood.
Once you've completed the postpartum programme, you'll be guided through additional fitness classes, to ease you transition into beyond.
Try free for 7 days
Postpartum-focused classes and workouts
Upper body

Lower body

With your child

Yoga

Breathwork

Core
Everything you need, and more
Dashboard

A motherhood-specific dashboard just for you.

Calendar

Keep track of upcoming live and on-demand classes.

Live

Live videos covering workouts, yoga, advice, chats and more.

Nutrition and recipes

To nourish you throughout your recovery and beyond.

Mind

Meditation, relaxation and more to help manage stress and anxiety.

Body

Postpartum rehabilitation workouts, yoga and pilates.

Challenges

Regular challenges helping you keep accountable and motivated.

Community

Join our supportive community of like-minded mums.

Experts

Advice and resources from our experts to support your motherhood.

Journaling

Record your thoughts and feelings throughout your journey.

Buddy up workouts

Find a buddy and reach your goals faster together.

Accessible anywhere

Available any time on any device for everything you need.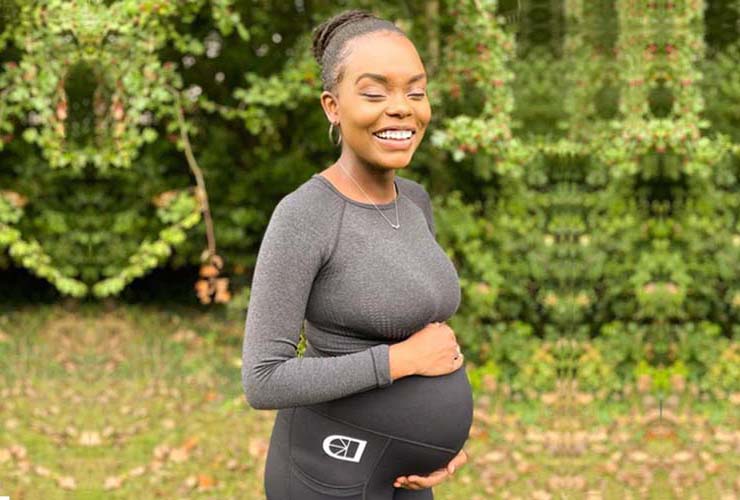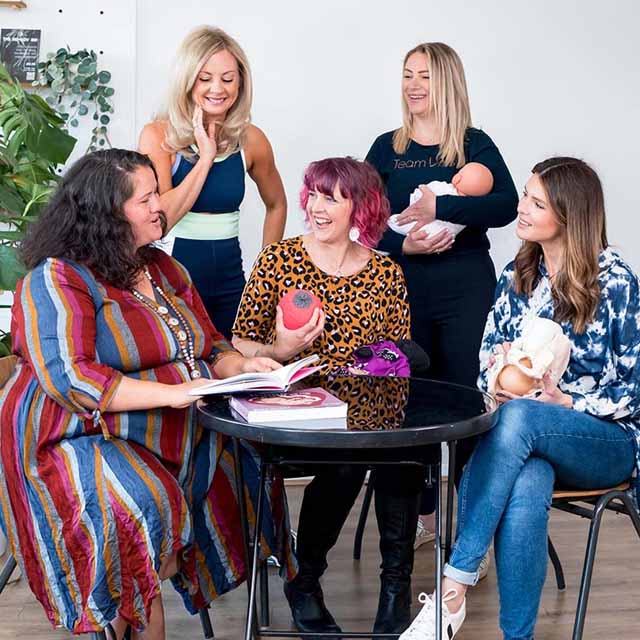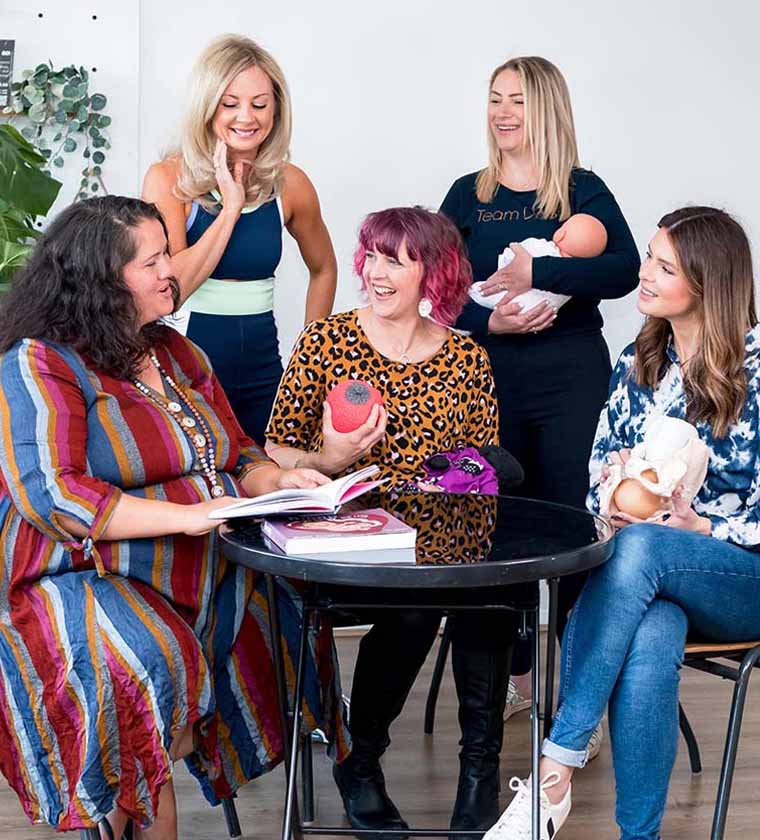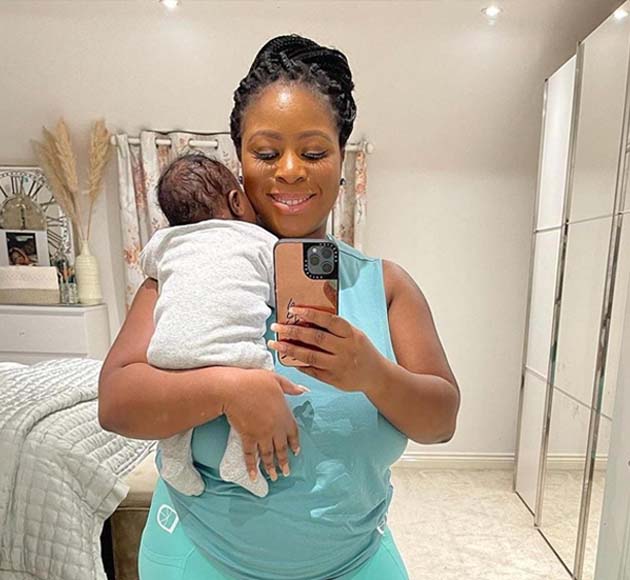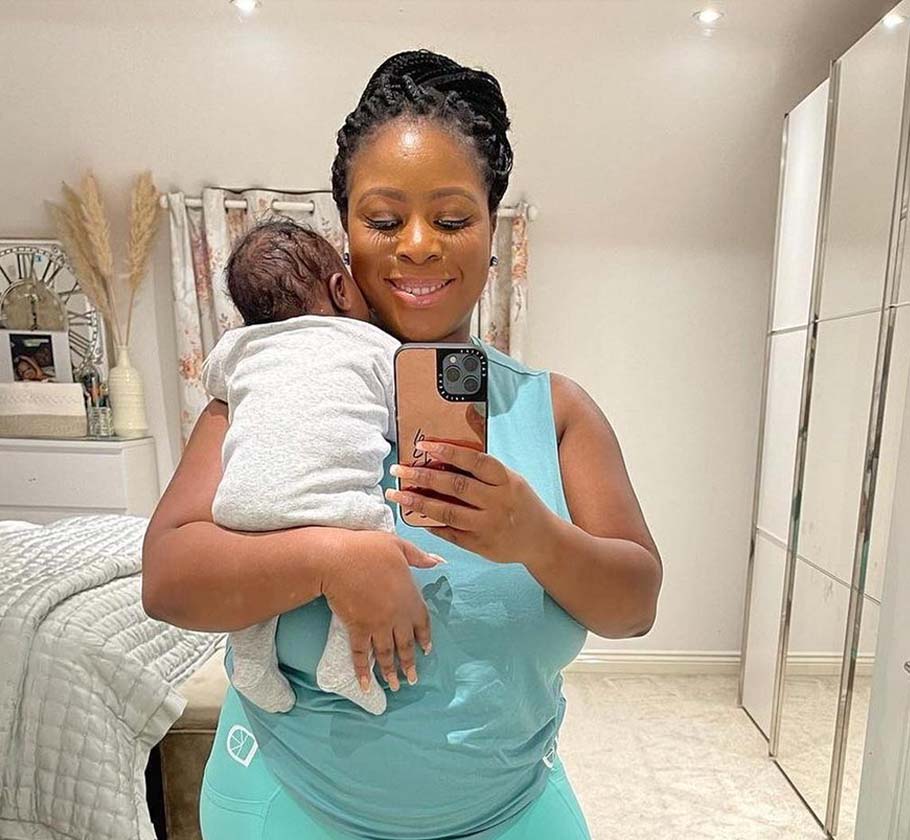 …and here's what they say.
Excellent
Charlotte

MotherFit is a great way to stay active whilst pregnant, the classes are easy to follow and specific to where you are in your pregnancy. They're accessible at any time so you're able to do them at a time and pace that suits you.
Rebecca

Mother Fit is exactly what I was looking for and Michelle is clearly passionate about guiding you through your recovery in a clear and concise way. It's only since learning from Michelle's classes, can I say with confidence, I now know how to do pelvic floor exercises effectively and how to incorporate them into usual workout routines.

Thank you Michelle 😊
Victoria

Helped me progress my fitness and strength after birth and beyond.

Motherfit has great fitness and educational content. I followed the postnatal programme, it was just the right pace to build up my fitness without overdoing it after birth. Michelle strikes a great balance between motivating you and making sure you are listening to your body. I am now enjoying the 8 week strength programme.
Helping you every step of the way
Discover recipes, advice and life hacks, from the best way to get rid of bingo wings to healthier lunch recipes for kids. The Mother Fit blog – helping make life that bit easier.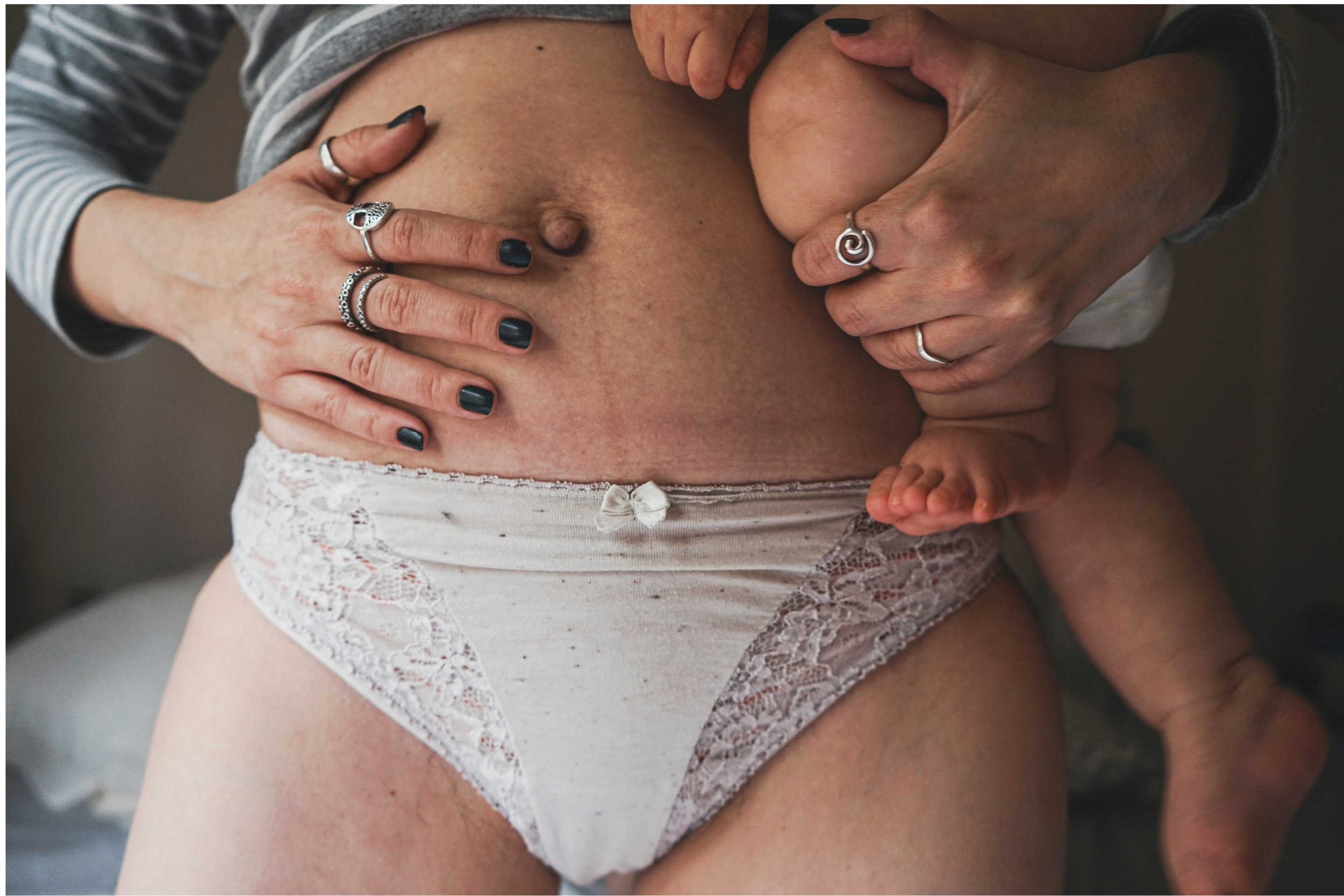 Postpartum
Postpartum, or the period following childbirth, is a time when new mothers go through various physical, emotional, and...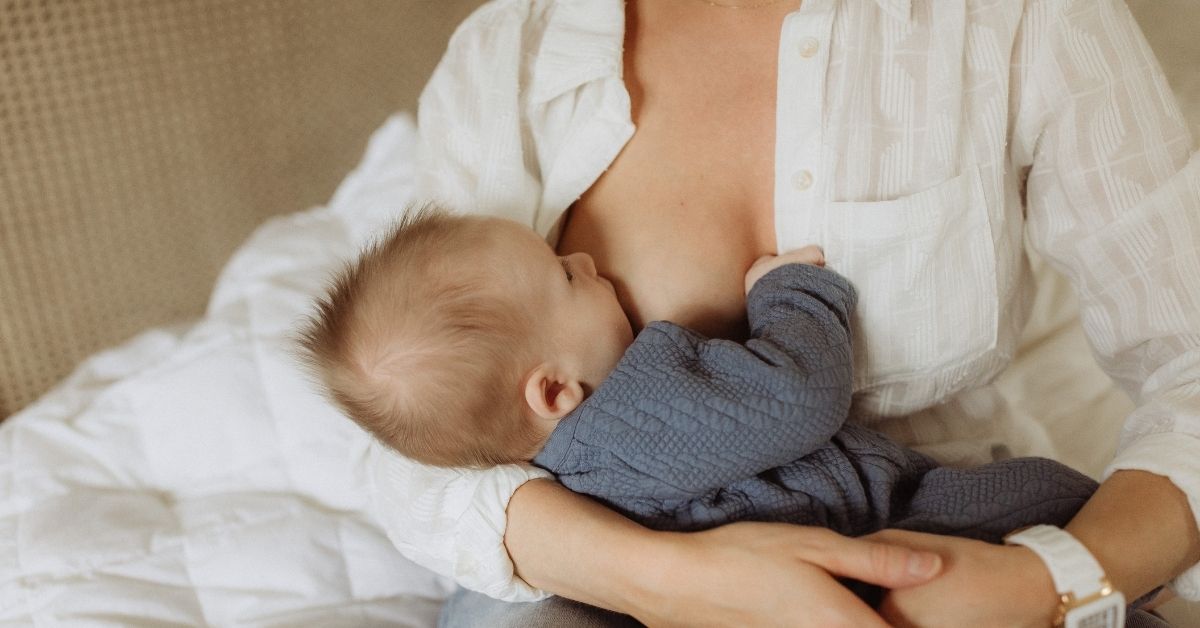 Postpartum
Follow breastfeeding advice tips from a lactation consultant with over 12 years of experience. Click here to watch the...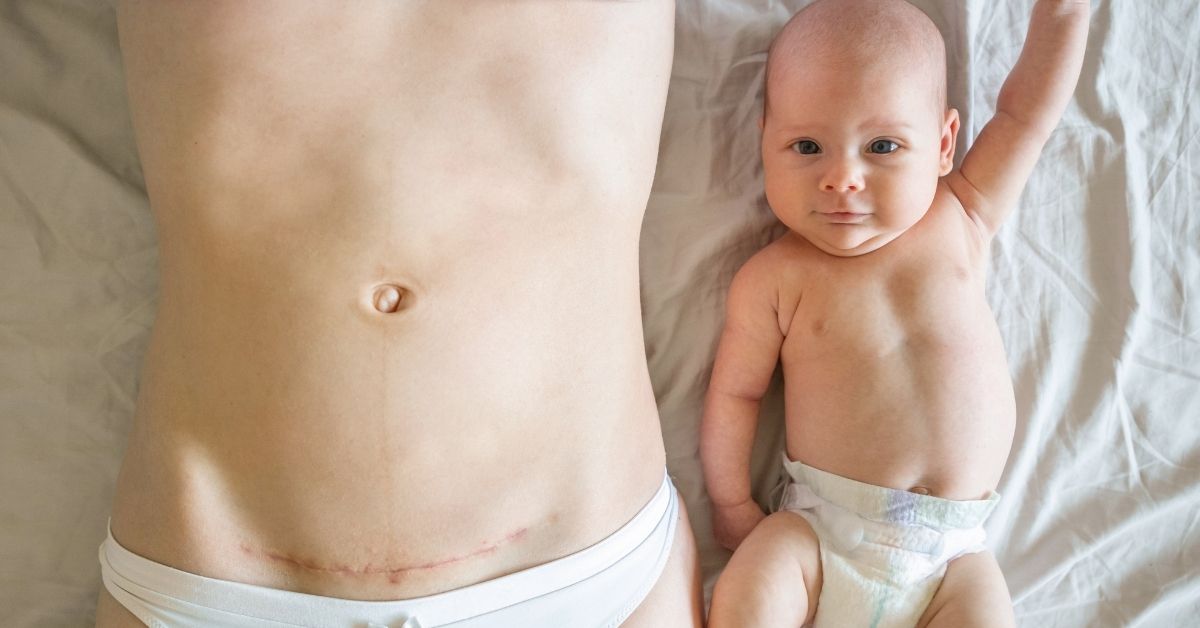 Postpartum
No woman should be suffering from c section scar pains long-term, whether it be 5, 10 or 15 years on from the procedure.